For centuries, people have yearned to be surrounded and subsumed by music that penetrates to the very soul. The concert hall is one place to do it, but your local movie theater might be almost as good.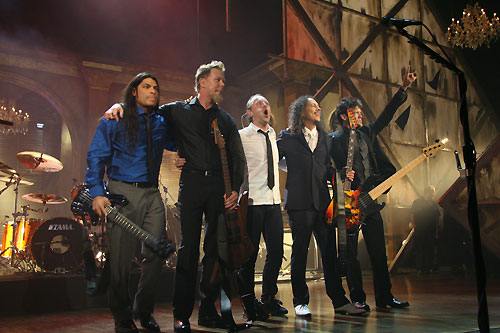 The Metropolitan Opera's series of opera broadcasts in movie theaters has been more successful than anyone predicted. This summer, after a 2009-10 season that has been roundly described as good but not great, they're dipping into their recent past. Aïda this week starts a series of encore presentations of six past operas presented by the Met, going back to 2007. The series culminates in the well-regarded Carmen from last season, which incorporates dances by Christopher Wheeldon. We in Fort Worth wish we could get a look at the William Kentridge-directed The Nose, after the director's art exhibit at the Modern.
If your choice of all-consuming music is heavy metal rather than opera, your local movie theater is offering up The Big Four on Tuesday. This broadcast of a live concert in Sofia, Bulgaria, is headlined by the seminal outfit Metallica. Their contributions are set off by the speed-metal sounds of Megadeth, the punk-laced and humorous stylings of Anthrax, and the take-no-prisoners nihilism of Slayer. This is the first time these four giants of their genre have ever shared the stage. It should be a perfect orgy of headbanging metal.
Aïda screens 6:30pm Wed-Thu at various movie theaters. Check Calendar for locations. Tickets are $18-22. Call 213-639-6166.
The Big Four screens 7:30pm Tue at various movie theaters. Check Calendar for locations. Tickets are $18. Call 213-639-6166.