The annual Mimir Chamber Music Festival is always good for a few pieces of music that you've never heard before, and this year's program is no exception. Besides the usual component of Beethoven and Brahms, this year's festival explores the chamber music output of Shostakovich, which rivals the Russian composer's symphonies in terms of musical greatness.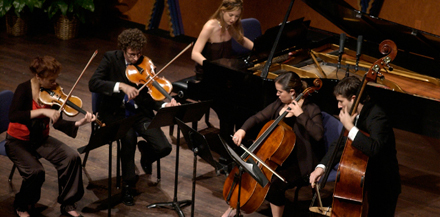 The festival opens on Thursday evening with Shostakovich's atypically sunny First String Quartet, then later features his frenetic Concertino for Two Pianos.
Alberto Ginastera's First String Quartet, a rough-hewn piece brimming with Argentinian flavor and dance rhythms, also comes up on the first evening's program, while Rachmaninov's unfinished First String Quartet (a piece he wrote as a teenager in the lush style that would characterize his music) leads off the Sunday performance. György Ligeti's "Métamorphoses Nocturnes" String Quartet No. 1 also takes the stage on Sunday, an early piece that points to the thorny Modernism of Ligeti's best-known work. The Tuesday recital centers on Olivier Messiaen's Quartet for the End of Time, written for the composer's musically talented fellow French soldiers in a German POW camp in 1940. Conditions there weren't close to the horrors of the concentration camps, which probably explains why this sparse work focuses on Christian notions of love and transcendence. You can hear these and more during the five concerts at this TCU institution.
The Mimir Chamber Music Festival runs Jul 8-16 at TCU, PepsiCo Recital Hall, 2800 S University Dr, FW. Tickets are $15-25. Call 817-257-7602.