As with years previous, Fort Worth Opera's 2011 four-opera festival offers some wildly diverse programming. Fans of grand opera have three performances of Verdi's Il Trovatore to choose from, beginning Sat, May 21. The $1.7 million production was bought from the financially strapped Opera Pacific in 2008 for $40,000, FWO general director Darren Woods said, "and we immediately rented it to the Detroit Opera for $40,000, so it didn't cost us anything." This will be its first appearance in Fort Worth.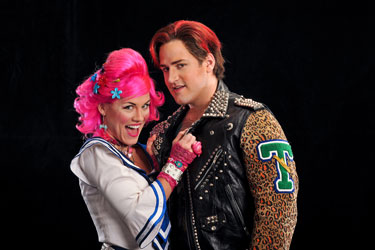 For lovers of Baroque opera and its acrobatic vocals, FWO will put on two performances of Handel's Julius Caesar, beginning Sat, May 28.
Minimalism gets its due in the form of Philip Glass' Hydrogen Jukebox, a setting of some of the poems of beat poet Allen Ginsberg. Nine performances are scheduled beginning Tue, May 24, at Sanders Theater in the Fort Worth Community Arts Center. Almost all of the shows are sold out.
Lastly, fans of opera buffa are offered FWO's production of Gilbert and Sullivan's The Mikado. Staged by John De Los Santos, this version, which kicks off the festival on Saturday, has been hyper-modernized, poking fun at old and new Tokyo (pre-nuclear disaster), with some people in business suits toting iPods and others in traditional garb. The Mikado stars soprano Jessica Cates and young tenor Logan Rucker as the star-crossed lovers Yum-Yum and Nanki-Poo.
Il Trovatore, Julius Caesar, and The Mikado will all be staged in Bass Performance Hall, accompanied by live music from the Fort Worth Symphony Orchestra. The music for Hydrogen Jukebox will be performed by a sextet. –– Leonard Eureka
The Mikado is at 7:30pm Sat in Bass Performance Hall, 555 Commerce St, FW. Tickets are $14-$159. Call 817-731-0726.