The original Shinjuku Station in Japan is one of the largest train stations leading in and out of bustling Tokyo. The similarly named new restaurant on the Near South Side features photos of subways and subway memorabilia scattered along the walls. At this Shinjuku Station, izakaya (liberally translated as "come stay for a few rounds at the sake joint") is both a feeling and the concept. Yes, there are festive drinks.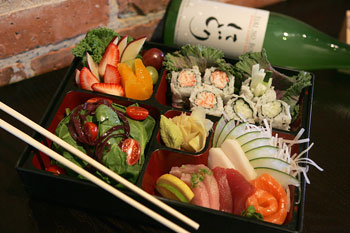 The Starmaretto martini (complete with gorgeous floating star anise) was an absolute feast for the eyes –– and pretty tasty. In the oblong, brick-walled room on West Magnolia Avenue, the bar is in the back and the sushi station up front, with modernist seating in between. The open-air kitchen is sort of charming, although the restaurant probably needs a better industrial-sized fan.
The food, as disclaimed by our knowledgeable and helpful server, is more than appetizer-size but not quite enough for a meal. But you're still supposed to share. No problems there. Everything looked so good that each of our plates became community property in a matter of seconds.
We started with the steamed edamame, which was fairly standard. The hiyashe wakame (seaweed salad) was outstanding: huge chunks of meaty squid, mixed with the seaweed, heavy on the ginger and soy sauce. Ditto the al la carte tempura. For less than a buck apiece, you can get your choice of plump black tiger shrimp, mushrooms, asparagus, lotus root, or a sweet sliver of kabocha pumpkin, which was delicious. Actually, the slightly salty, crispy tempura batter was so good almost anything could have been dipped in it and come out tasting good.
Our table of three turned our attention to the sushi menu. A spicy yellowtail temaki came presented beautifully, hanging in a small wooden holder, along with pickled daikon radish and ginger root. I can't remember ever seeing sushi presented in 3-D before. The rice paper roll included a lettuce leaf that provided a nice bit of crunch. The salmon roll and the white tuna nigiri were both immaculately fresh but neither as prettily presented as the temaki. Interestingly, at Shinjuku Station the sushi rolls come out fairly au naturel, without a lot of funky saucing to impede the flavor.
Moving on to the more substantial dishes on the menu: The Hoikkaido scallops and spicy tuna tartar were delightfully presented on fried lotus root. The sweet scallop and spicy fresh tuna flavors melded wonderfully. Teeny, crunchy rice pearls were scattered around the plate –– tasty but maddeningly hard to grasp without licking a finger and dragging it on the plate. And the chicken karaage, ordered for the diner who doesn't like a lot of unusual-tasting food, was the perfect choice. Chunks of dark meat were deep-fried and served on skewers with a side of mayo and fried peppers. Moist and perfectly crispy, the dish is akin to really fancy, upscale chicken nuggets for folks who may be unsure of trying out Japanese cuisine.
The homemade kabocha cheesecake was a perfect way to end the meal. The rich dessert had an amazing silky texture and came kissed with candied walnut and a heavenly deep caramel sauce.
The only problem with Shinjuku Station is that by themselves, the individual items are so reasonably priced: As an example, $6 for the work-of-art temaki? A diner with big eyes might be tempted to order much more food than she needs. Regardless, Shinjuku Station is a lovely addition to the esoteric dining on Magnolia.
Shinjuku Station
711 W Magnolia Av, FW. 817-923-2695. Closed Sun, 11am-9pm Mon-Thu, 11am-10pm Fri, noon-10pm Sat. All major credit cards accepted.