WED ▪ 18
It'll be a stiff test for the TCU women's basketball team this evening. Mired in the middle of the Mountain West Conference standings, the Lady Frogs will face the conference-leading UNLV Lady Rebels, undoubtedly hoping for a win to pull them closer to the three-team pack in the front. The game tips off at 6:30pm at Daniel-Meyer Coliseum, 2900 Stadium Dr, FW. Tickets are $4-8. Call 817-257-7967.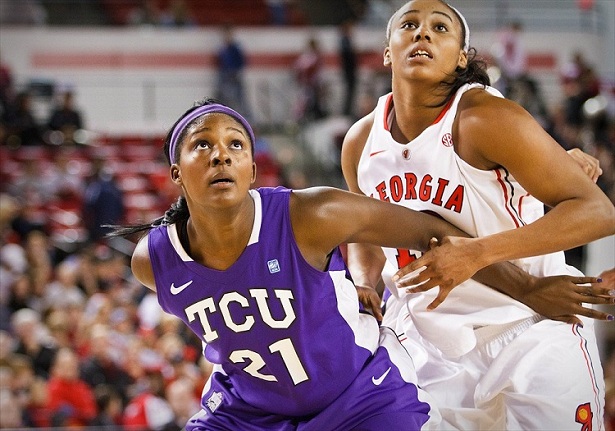 THU ▪ 19
The latest career move for singer and actress Jennifer Hudson is as a celebrity spokeswoman for Weight Watchers, and you can see the noticeably thinner Oscar winner as she comes to Fort Worth to sign copies of her weight-loss book, I Got This. Her appearance is at 2pm at Weight Watchers Center, 6978 Green Oaks Rd, FW. Admission is free. Call 646-935-4206.
FRI ▪ 20
The ninth annual Django Reinhardt Festival takes up residence at Arts Fifth Avenue this weekend, with music by Continental Graffiti, Gypsy Moon, and String Theory Manouche. The venue will also screen documentary films about the legendary French jazz guitarist, as well as Woody Allen's Sweet and Lowdown. The festival runs Fri-Sun at 1628 5th Av, FW. Tickets are $20-45. Call 817-923-9500.
SAT ▪ 21
Some of the 817's most progressive bands, including The House Harkonnen, Holy Moly, and The Phuss, will perform as part of Fight for Maddie, a benefit show for 5-year-old Maddie Higgins, who's battling brain cancer. The evening also includes an auction and raffle of items such as Granada Theater concert tickets. Smoke Restaurant and Mr. Jim's Pizza will provide food. All proceeds go toward the Higgins family. The event starts at 3pm at Caves Lounge, 900 W Division St, Arlington. Cover charge is $5; $10 to eat. Call 817-460-5510.
SUN ▪ 22
Fort Worth Symphony Orchestra turns into a Paul McCartney tribute band by offering Live and Let Die, headlined by singer Tony Kishman. The program will remind you of how brilliantly the Beatles used orchestra instruments, from the elegant string quartet backing of "Yesterday" to the outrageous Baroque trumpet behind "Penny Lane." The concerts run Fri-Sun at Bass Performance Hall, 555 Commerce St, FW. Tickets are $27-79. Call 817-665-6000.
MON ▪ 23
Kim Edwards scored a big hit with her widely feted debut novel The Memory Keeper's Daughter, and now she's in town to sign copies of her second novel, The Lake of Dreams, about an American expat who returns to her hometown in upstate New York and discovers a long-buried family secret. The author appears at 7pm at Barnes & Noble, 1612 S University Dr, FW. Admission is free. Call 817-335-2791.
TUE ▪ 24
Russian, Ukrainian, and Armenian composers take center stage at TCC's faculty music recital. The concert features music by Tchaikovsky, Rimsky-Korsakov, and Rachmaninov, plus a host of lesser-known names (such as Boris Fomin and Anatoly Kos-Anatolsky) whose music you may well want an introduction to. The concert is at 7:30pm at TCC Northeast Campus, 828 Harwood Rd, Hurst. Admission is free.