Jordan Runs
Whoops, looks like Rush Olson's post from earlier was a bit premature. Five days after NBA free agent center DeAndre Jordan agreed to a deal with the Mavericks, the rebounding big man has apparently reversed course and decided to return to his previous team, the Los Angeles Clippers. The waffling capped a day of pure madness, with the two teams tweeting emojis like mad to sway the player, Clips point guard Chris Paul tweeting a picture of himself on a banana boat (possibly to throw people off the scent of his real whereabouts), Clippers forward Blake Griffin tweeting Jordan's chair propped up against his door, and Mavericks forward/recruiter Chandler Parsons tweeting an even funnier response:
I thought I had a good pump fake.

— Chandler Parsons (@ChandlerParsons) July 9, 2015
And the free agency period is barely a week old. What other insanity lies in store for the home team? Stay tuned.
Textbook Racism
Comedians had a field day last November when they found out that Texas' new school textbooks feature Moses as one of America's Founding Fathers, but this week, they noticed something less funny. The textbooks downplay slavery as a cause of the Civil War. By doing so, the state's education board is helping perpetuate the ancient lie that the Confederacy was fighting for individual liberty instead of for the right to keep other darker-skinned individuals in chains. At a time when Confederate flags everywhere are coming down (and not fast enough, really), the whitewashing couldn't be more unfortunate. How long before they start showing Song of the South in history classes as a documentary?
Hood County Caves on Gay Marriage
As you've likely heard, the drama to the southwest of Fort Worth finally ended when the office of Hood County clerk Katie Lang finally granted a marriage license to Jim Cato and Joe Stapleton after more than a week of delays caused by blatant homophobia the county office not having the proper forms, even after the couple brought one in themselves. The marriage is now legal, but the lawsuit goes forward to reimburse the couple for their lawyer fees and to make sure that future gay couples don't have the same trouble.
Raid of the Rainbow Lounge on DVD
Continuing on the LGBT front, Robert L. Camina's Raid of the Rainbow Lounge is now available on disc and VOD. After garnering a slew of awards on the LGBT film festival circuit, the documentary film by the Dallas-based filmmaker (and former Weekly profile subject) can now be seen in the comfort of your own home. Or you can go to the Modern Art Museum on the 16th and catch a screening of it there.
Not the Cars We're Looking For
This might be taking Chinese intellectual piracy to new heights. Last Friday, an animated film dropped in Chinese theaters called The Autobots. Viewers immediately noticed some eerily similarities to Pixar's Cars (and not to the Transformers movies, as you might assume). Here's a side-by-side poster comparison: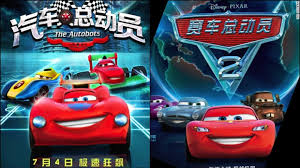 Reached for comment, the movie's director said he hadn't even heard of Pixar's film. People who paid to see the film, some of whom mistook it for another Cars sequel, compared the quality of the animation to that of first-generation PlayStation games. This probably shouldn't be surprising, given that Chinese animation is still in its infancy. (It only started after the box-office success of Kung Fu Panda caused a "Why didn't we make this movie?" uproar in that country.) No doubt the country will have improved its standards for upcoming projects like Outside In, Monsters College, and WILL-E.
And Finally…
A leopard tries to eat a zebra that has already died. This free meal turns out to be a bad idea.

https://youtu.be/Ar9Pf5bIi8A