For a while, I thought that maybe my listlessness was due to the compounding effect of triple-digit heat, pre-dawn workouts, and long days at the community newspaper where I work. Lowering the treadmill's elevation, taking vitamins, and downing sports drinks didn't help. The lethargy remained.
Something else was happening, too, that was uncharacteristic: feelings of annoyance when readers phoned to ask that I investigate this or that, usually something that affected them personally. The questionable management practices of a homeowners' association. Tea Party shenanigans threatening jobs in county government. Anti-gay censorship attempts at our library.
Throughout my journalism career, I have written stories that garnered awards for my newspaper but also won me enemies. At times, my work even carried the possibility of physical harm: once from an alleged "Asian mafia" associated with a mayor in an upscale suburban town; another time, from Aryan Brotherhood friends of a sheriff who doled out weekend furloughs to jail inmates.
I have been the reason for canceled subscriptions, angry letters to the editor, government employees being afraid to be seen with me, and ads intended to discredit me (the payment for which my publisher happily accepted because newspapers always need ad revenue). I have been accused, as recently as a few weeks ago, of sleeping with sources (a common trope directed at female journalists), of misquoting people, and of being unethical (another common attack against female journalists). I have been assailed as biased more times than I can count. 
For years, I withstood the blowback because I always thought that I was performing a public service, the same as other hardworking journalists at other newspapers and media outlets. But these days, it seems as if few people consider journalism and public service to be synonymous. Many seem to see reporters as sub-human and fair targets, figuratively and even literally. Such attitudes anger me on two counts: No one likes to be treated that way, and blanket contempt of the media is shortsighted and ignorant.
Increased targeting of the press is not paranoia. Reporters Without Borders recently downgraded the United States on its 2019 World Press Freedom Index, labeling the country as a "problematic" place for journalists to live. Those in an industry already struggling because of social media competition now have reason to worry about their own personal safety.
"Never before have U.S. journalists been subjected to so many death threats or turned so often to private security firms for protection," Reporters Without Borders states.
I never thought I would see such a thing in this country, but, then again, I never imagined that our constitutionally protected free press would come under constant attack by a president who swore to uphold the Constitution. I never imagined that it would be necessary for the U.S. Senate to pass a resolution affirming that the media is not "the enemy of the people," but we arrived there on Aug. 16, 2018. I never fathomed that some who claim to be Christians would condone T-shirts bearing the message "Rope. Tree. Journalist. Some assembly required," but apparently plenty of people think the shirts are a hoot. For a time, they were even sold online by Walmart.
Between June 16, 2015, when Donald Trump announced what would become a winning bid for the presidency, and January of this year, the former reality TV star sent 1,339 tweets about the media that were "critical, insinuating, condemning, or threatening," according to the Committee to Protect Journalists (CPJ).  In 2017, the same year that Trump's "fake news" rhetoric segued into the disturbingly authoritarian "enemy of the people," the CPJ and other organizations founded the U.S. Press Freedom Tracker to systematically track attacks and threats against journalists.
"It was created because we saw that there was violent anti-press rhetoric, and we wanted to be able to see whether that was going to have an impact," said Courtney Radsch, CPJ's advocacy director.
Tracy Everbach, a professor in the Mayborn School of Journalism at the University of North Texas, said she is "extremely concerned" and believes that the situation will get worse because Trump "has stoked the flames of hatred against journalists."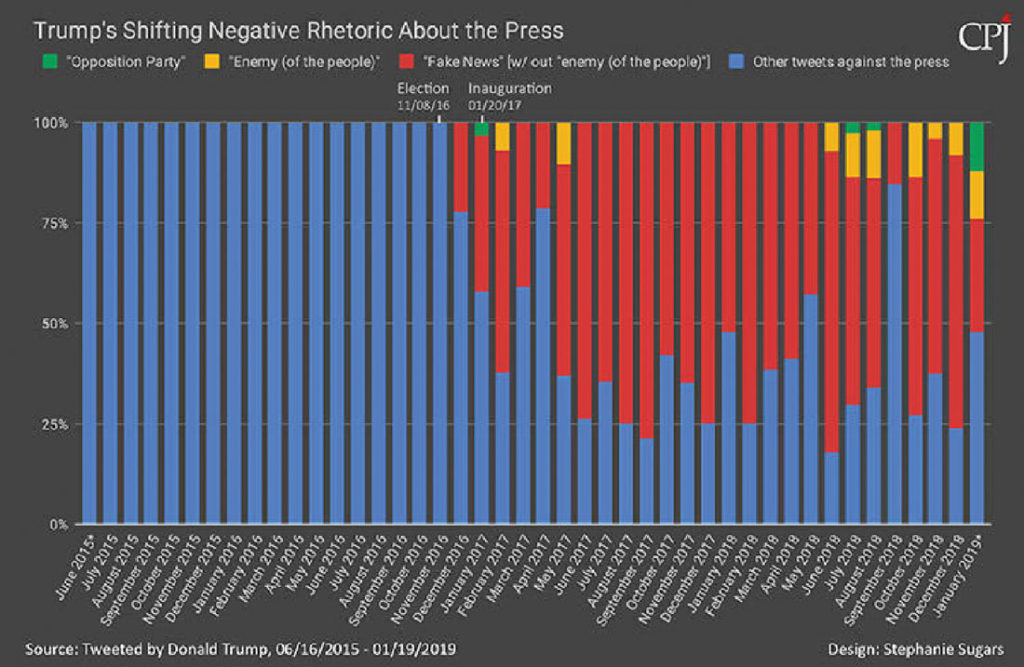 *****
While Hurricane Dorian, a Category 5 cyclone with wind gusts of up to 220 mph, was wreaking havoc in the Bahamas on Labor Day morning, Trump was attacking the "Fake News Media" in his morning tweetstorm. Spending the day on the links at his Trump National Golf Club in Sterling, Virginia, he let fly a dozen tweets by 8 a.m. Central Time.
The next day, Axios reported that Trump's political allies had raised at least $2 million to investigate reporters and editors at mainstream news outlets ahead of next year's election. The news platform reported that a three-page fundraising prospectus stated that the project will focus on "the people producing the news." CNN, MSNBC, The New York Times, The Washington Post, Buzzfeed, Huffington Post, "and all others that routinely incorporate bias and misinformation" were listed as "primary targets." No mention was made of any prejudice at Fox News, where coverage of Trump has been so fawning that the network is mockingly referred to as "Trump T.V."
On the same day that Axios reported on the GOP's planned assault on the press, the second reporter to have his White House "hard pass" yanked by the Trump administration won a victory in court. U.S. District Judge Rudolph Contreras ordered Trump and his press secretary, Stephanie Grisham, to immediately restore the credentials of Playboy columnist Brian Karem, who had been booted last month after a confrontation in the Rose Garden with former White House aide and conservative media personality Sebastian Gorka. A similar court victory was won last year by Jim Acosta, CNN's chief White House correspondent. A judge ruled that Acosta's due process rights were violated when the administration pulled his press pass without warning. 
With the 2020 presidential campaign ramping up, Radsch said that the CPJ is "particularly concerned about the anti-press rhetoric that, frankly, has been characterized by President Trump since he was a candidate. As we enter another election period, I hope that everyone will moderate criticism, moderate their attacks on journalists. Journalism is a fundamental part of what makes democracy work."
Radsch maybe shouldn't hold her breath. Trump's base loves his attacks on the press, so it is unlikely that he will tone down his rhetoric. But also, Democrats and liberals are now piling on. Embarrassing controversies involving the country's largest newspapers, top editors, and cable news personalities have pretty much guaranteed that the press will be "a central character in the 2020 presidential cycle," The Hill reported in August. 
The mainstream media made itself a target from the get-go this year by jumping to conclusions about a January encounter at the Lincoln Memorial in Washington, D.C., between 16-year-old Covington, Kentucky, high school student Nick Sandman and Native American drummer Nathan Phillips. Sandman was part of a school field trip that unwittingly visited the national monument at a time when a clash was occurring between the Black Hebrew Israelites and those who were part of the Indigenous Peoples rally.
A video clip of Sandman, standing stock still with a smile on his face and a "Make America Great Again" cap on his head just inches from Phillips, who was beating a war drum and chanting, was interpreted as racist and an intent to mock the Native American. Various news outlets ran with the clip, which didn't show the encounter in its full context. Sandman later said that he and the other boys thought that the group of Native Americans was being friendly and that they were attempting to respond in kind but later realized that some in the group had hurled racial insults at them.
"The news media was so determined to use the encounters of that day to smear President Donald Trump that they completely ignored the timeline and instead created a false narrative from a brief video clip," wrote Don Loucks, a contributing columnist, in The Austin American Statesman. The mainstream media, he wrote, "had the video clips it wanted for their completely incorrect MAGA racist narrative."
Other missteps occurred throughout the year, including two last month.
The New York Times demoted deputy Washington editor Jonathan Weisman because he repeatedly posted messages on social media about race and politics that the paper said showed "serious lapses in judgment." A couple of weeks later, the host of MSNBC's The Last Word with Lawrence O'Donnell issued a cringe-worthy on-air retraction and apology after quoting an unsubstantiated claim from a single source that loans made to Trump by Deutsche Bank were co-signed by Russian oligarchs "close to Vladimir Putin."
O'Donnell rightfully was forced to issue the retraction and apology, but the president of the United States wasted no time in publicly mocking the cable news host because, well, this is where we are now in this country. The question is: Where will we go from here?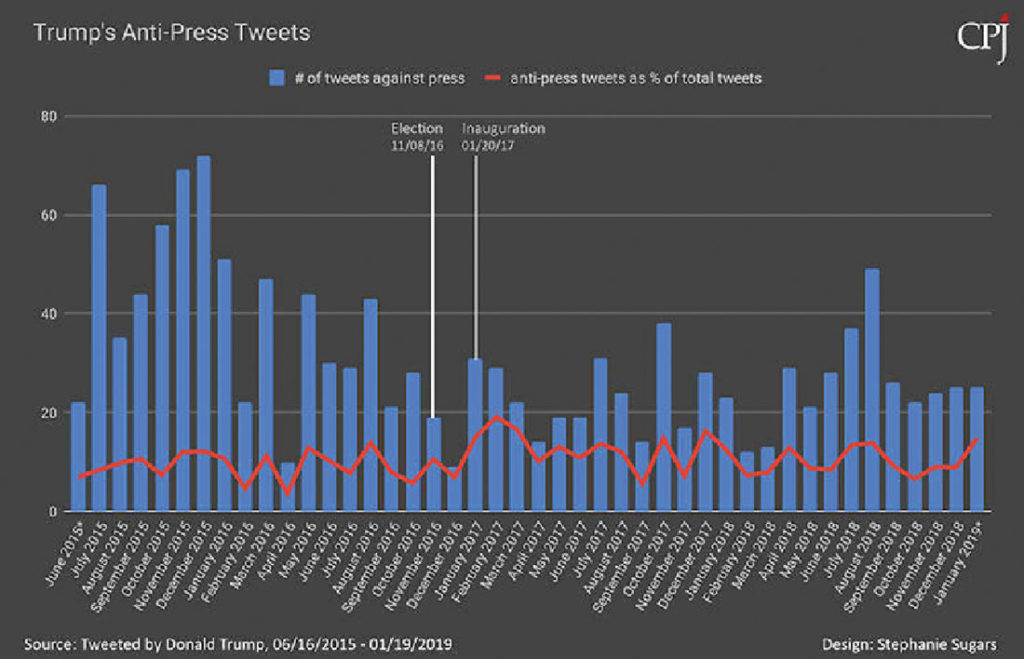 *****
Although Trump has broken presidential norms with his serial assaults on the free press, it wouldn't be fair or accurate to solely blame him for the current tattered relationship between the press and the public it claims to serve. The public's trust in the media has been heading south for years, according to "Indicators of News Media Trust," a Gallup/Knight Foundation study published in 2018. In 2003, 54% of Americans polled by Gallup said they had "great trust" or a "fair amount of trust" in the news media, but by 2016, those numbers had dipped to 32%.
The study found that trust in the media is a partisan issue. More than nine in 10 Republicans and conservatives said that their trust in the news media decreased over the past decade. Those on the left report a higher level of trust in news reporting, but nevertheless 42% of Democrats and 46% of liberals said their trust level has waned. Seventy-five percent of independents and 66% of moderates said that they, too, are less trusting of the media than they were 10 years ago.
The report states that Americans "give clear indications" that their trust relies upon getting accurate, unbiased, and balanced news, but that those factors "are more philosophical in nature" and don't provide clear direction on how news organizations can win or regain public trust. It also points out that accuracy and bias "are often in the eye of the beholder."
Last year, I reported on a "Families Belong Together" rally, which protested the Trump administration's policy of separating families at the border. The event was newsworthy in part because my county is heavily Republican and pro-Trump. It was also of interest because similar rallies were being held in cities across the nation and the Democrat who organized the march was married to our then-Republican Party chair.
Following the rally, I posted a brief news item on my paper's Facebook page,  taking care to include that even though Trump supporters showed up to challenge the protestors' views, the groups engaged civilly. Nevertheless, there was immediate backlash – a lot of it. Posts were insulting, with orders to "Shut up!" and referring to my newspaper as a "liberal rag." A columnist at a major newspaper shared the post to his own Facebook page and noted that my community newspaper was being blasted for "straight-forward reporting."
I felt incensed at the knee-jerk insults over simple, forthright reporting, but I also felt validated by the columnist who shared the post. I had long felt that the anger expressed by many in my deep-red county wasn't because of bias in my reporting but the fact that I report at all. I am apparently supposed to disregard the cruel immigration policies of an unpopular Republican president and ignore any event sponsored by Democrats.
While there are reasons to be discouraged about the damaged relationship between the news media and the public, findings in the Gallup/Knight Foundation's "Indicators" study as well as their "American Views: Trust, Media and Democracy" report indicate that there is hope: Most Americans still believe that the news media play a critical role in U.S. democracy, and 69% believe that faith can be restored.
This raises another question: If trust in the media is tainted by partisanship and if bias is often in the eye of the beholder, how is the press to cover a president who is himself a purveyor of fake news? According to an analysis by The New York Times, Trump has made more than 12,000 false or misleading statements since taking office.
•••••
It may be that Trump Fatigue will be what ultimately lowers the temperature in our volatile political climate. At the end of January – more than seven months ago – Trump had tweeted more than 5,400 times to his 55.8 million followers since taking office, according to the CPJ. Oftentimes his tweets serve to vent grievances and spew insults. The media hasn't been his only target. He has lashed out at other world leaders, celebrities, Democrats, Congressional women of color, war heroes, black athletes, members of his own party, and even Fox News.
Opinion columnist Frank Bruni recently wrote in the Times that Trump "has worn us all out" and that maybe the public's exhaustion "spells his end." Maybe. But we've got a grueling campaign season to suffer through before we find out.
City leaders in Charlotte, North Carolina, are reportedly regretting their razor-thin vote to host next summer's Republican National Convention (RNC), where, presumably, the GOP will nominate Trump for a second term. The Huffington Post reported that in July, Charlotte officials, upset over statements by Trump that they deemed racist, discussed trying to pull out of the deal but decided not to attempt it after the city attorney warned them that they would likely face big legal bills.
Cities bid to host national political conventions because they put thousands of heads in beds, fill up restaurants, and boost the host city's profile. That process played out a bit differently in the case of next year's GOP gathering. Other cities did initially indicate an interest, but Charlotte was the only one to formally submit a bid. Even then, approval passed the City Council by just one vote, with some city leaders citing concerns about protests.
By comparison, seven bids were submitted to the Democratic National Committee for its 2020 convention. Milwaukee, Wisconsin, was the winner.
During the time I worked for a large metropolitan daily, I attended several Democratic and Republican national conventions and was always excited to witness history being made on either side of the political spectrum. Never once did I feel threatened. I'm not sure that would be the case if I were to attend the assembly in Charlotte. Any history made there will probably be history that I don't care to witness, especially with press credentials hanging around my neck. I have no desire to be on the floor of the arena when balloons and confetti and upbeat music fill the air in celebration of a man who refers to the press as "scum," publicly praises a lawmaker who body-slammed a reporter, and endangers an assortment of his fellow citizens through hateful rhetoric.
While the GOP convention might be very different from Trump rallies, it also might not be. Many people who watched the televised 2016 Republican convention in Cleveland, Ohio, were shocked when delegates chanted, "Lock her up!" in reference to Democratic presidential nominee Hillary Clinton. Hateful rhetoric has only intensified since then. At a Trump rally last February, the BBC's Ron Skeans was attacked from behind by a MAGA-cap-wearing Trump supporter who was heard to say "fuck the media" before he jumped the cameraman from behind.
The hatred is taking a toll. UNT's Everbach said that other journalists have been feeling the same lack of energy and professional passion that I have been experiencing.
"Anecdotally, I can tell you that I hear from working journalists, including former colleagues and former students who are in the industry, that the constant criticism and harassment has an effect on their mental health and also causes them to fear for their safety," she said. "Not only are they supposed to do their jobs, but they also constantly are exposed to comments that degrade them and attack them. Women and people of color are particularly susceptible to harassment on social media and comments sections. The current climate and the advent of social media have allowed some people to think that this kind of harassment is perfectly acceptable." 
Trump clearly cares little about the First Amendment and the rights of a free press. About 40 percent of the country doesn't care that he doesn't care.
So here's another question: How long will it be before the watchdogs who have exposed corruption, spoken truth to power, and given a voice to the marginalized decide they don't care either?