In Woody Allen's 1979 film Manhattan, his character says, "When it comes to relationships with women, I'm the winner of the August Strindberg Award."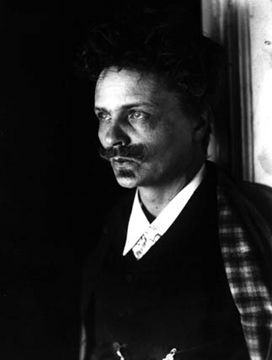 He was referring to the turn-of-the-century Swedish playwright, poet, painter, and photographer who was a terrible husband and lover. (Indeed, Strindberg's views on the women's emancipation movement sweeping Scandinavia during his lifetime were caveman-like, and one of his tracts on the subject got banned by the Swedish government.) A man with a famously tenuous grip on reality, he lived with paranoid delusions that drove him to dabble in the occult. Occasionally suicidal and schizophrenic, this longtime atheist eventually converted to Christianity and fell prey to episodes of religious mania that terrified everyone around him.
While he was living with all this, he managed to write some extraordinary, coruscating, hate-filled plays that redefined European theater. His 1888 drama Miss Julie was a masterpiece of realism, but by the time he premiered A Dream Play in 1907, he was out to rewrite the rules. Before this, plays had taken occasional detours into dream sequences, but no one had ever set an entire piece in a dreamscape. His new technique helped pave the way for later giants such as O'Neill and Beckett. UNT Theatre will be putting on two performances of this landmark of theatrical history this weekend, a unique opportunity to see this tormented genius' vision come to life.
A Dream Play goes on at 8pm Fri-Sat at UNT Studio Theatre, RTVPF Bldg, Welch & Chestnut sts, Denton. Tickets are $5. Call 940-565-2211.