Around the intersection of East Allen Avenue and Mississippi Street is the heart of what may be one of Fort Worth's toughest neighborhoods, Stop-Six.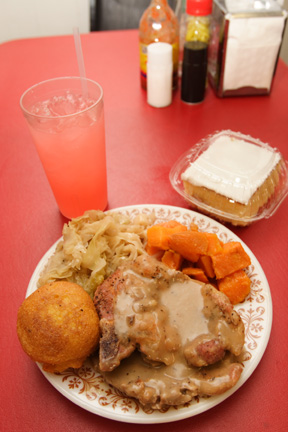 For blocks in every direction are homes that are boarded up and for sale. The ones still occupied have their windows and doors covered in bars, and even some of the front porches are caged in steel mesh. To an outsider, this part of Stop-Six by Hillside Park is just another instance of local politicians not giving a hoot about places where not enough people vote. But there might be more to it. Equidistant from downtown and the burgeoning Near South Side, this neighborhood is ripe for gentrification. There's no reason why some wily developer with deep pockets and a lot of pull at city hall couldn't swoop in, snatch up the real estate at bargain-basement prices, receive millions of dollars in tax breaks to put the land to use, and make a killing, sending the neighborhood's small number of current inhabitants … just where, exactly? Good question.
One small sign of life amid the blight is Jan's Sweet Expressions, an independent soul joint where good food is served in good portions and at good prices. Not that anyone other than a truly passionate foodie is going to go out of his or her way to eat there – the neighborhood is simply too intimidating. During my first visit to Jan's a couple of weeks ago, a fellow diner asked me if I'd locked my car. "If you didn't and you have a stereo," he elaborated, "it will be gone." Owner Jan Ransom opened the eatery two and a half years ago, thinking she'd use it only for catering. "I was a caterer, and this place was affordable, so I took it," she said. "But the previous owner had used it for a restaurant, so we decided we would do that too."
Once the place opened, however, restaurateuring became Ransom's focus. "Unfortunately, though, because of the neighborhood, we have to close at six," she said. Most of her business is takeout, though there are a handful of cozy tables in the single, bright white room. Jan's menu mainstays are smothered and fried chicken, baked chicken, pigs' feet, chitterlings, and pork chops. Daily specials alternate between meat loaf and short ribs. All dishes come with two generous sides and either a fried or baked corn muffin. Service is quick and friendly, and the food arrives hot. The pork chops, covered in rich, slightly greasy gravy, were great. Thin and baked 'til the meat was falling off the bone, they went wonderfully with the two sides: delicately peppered, fresh, and aromatic fried cabbage and diced, sweet – really sweet – potatoes. The baked chicken was a step down. The legs were a little dry (then again, I got there when the lunch rush was over and the kitchen was winding down). But the bird was still tender and flavorful, and the accompanying macaroni and cheese made a tasty, buttery partner, though it could have used a dash of salt. A medley of perfectly boiled cauliflower, broccoli, and carrots lightened things up in the best way.
Nearly equal in quality to the pork chops was a plate of smothered fried chicken: four succulent drumsticks covered in a decadent gravy that boasted a homemade chicken-stock flavor. However, the pinto beans and green beans, like a couple of the other sides, could have used a little more sprightly seasoning. For most local foodies, "adventure" means ordering Thai food extra-hot. At Jan's, it's something totally different.
You can reach Peter Gorman at
peterg9@yahoo.com.
Jan's Sweet Expressions
Baked pork chops $6.75
Smothered fried chicken $6.75
Baked chicken $6.75