Here's to the local symphony orchestras doing weird things with their programming.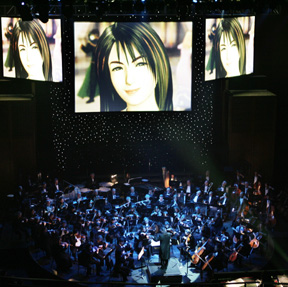 This weekend Dallas Symphony Orchestra does an all-Leonard Bernstein concert, which raises the pertinent question of why only the likes of Beethoven and Brahms have entire evenings of classical music devoted to them. Why don't classical programmers give us whole concerts to immerse ourselves in the likes of Carl Ruggles or Bohuslav Martinu or John Adams? Bernstein's music isn't exactly radical these days, but at least DSO is taking a step in the right direction.
Even more radical is what Fort Worth Symphony Orchestra is taking on this Saturday. Their concert is called Play!, and its existence acknowledges the fact that many video games now feature orchestral music that's worth hearing outside the game. Gamers and non-gamers alike can hear Miguel Harth-Bedoya conduct background music from stalwarts such as World of Warcraft and Super Mario Bros., as well as from the relatively obscure Shenmue, a samurai-themed game for the Sega Dreamcast format that experienced disappointing sales when it came out in 2000, even while drawing raves for its graphics and music. Who would have figured on a symphony orchestra as a vehicle for rescuing good music from an otherwise-forgotten game and bringing it to a whole different audience? Forward thinking like this should keep our orchestras afloat in these musically fractious times.
Play! begins at 8pm Sat at Bass Performance Hall, 555 Commerce St, FW. Tickets are $35-65. Call 817-665-6000.