One of Fort Worth's more interesting art shows is opening on Thursday evening at the Fort Worth Central Public Library. Hidden Views contains objects of particular note from the museum's archives, and it's all attractively laid out by local multimedia artist Christopher Blay.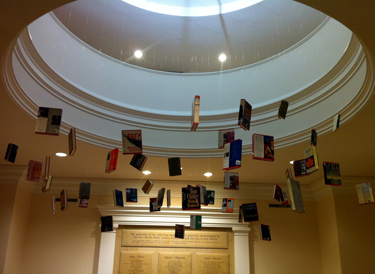 The collections of ledgers and political cartoons, piled up seemingly haphazardly in display cases, are rather striking at the entrance to the exhibit, but what we found most interesting was the assortment of historical posters from events such as the first Van Cliburn Competition, old Shakespeare in the Park productions, and recent editions of the Lone Star Film Festival and Fort Worth Opera.
You can get more perspective on this show from attorney and judge Quentin McGown, who's giving a talk at the library on Tuesday evening that's provocatively titled Preserving the Fort Worth Story: Does It Matter? Given McGown's extensive work as a local historian, we're not in much suspense over what the answer might be. Still, he'll probably have some perspectives on the material in the gallery that you might not get elsewhere. Seating for the lecture is limited, so be sure to make reservations.
Hidden Views runs thru Mar 13. Preserving the Fort Worth Story is at 5:30pm Tue. Both events are at Fort Worth Central Library, 500 W 3rd St, FW. Admission for the gallery show is free. The lecture is $12. Call 817-871-8022.