WED ? 2
It's a great week if you're a John Adams fan. The composer's delightful The Chairman Dances is being played by Greater Dallas Youth Orchestra, and the opera that inspired that piece, Nixon in China, will be shown in local movie theaters. It's an encore broadcast of the performance at the Metropolitan Opera from a couple of weeks ago, conducted by the composer himself. The show is at 6:30pm at various theaters. Check Calendar for locations. Tickets are $18-22. Call 213-639-6166.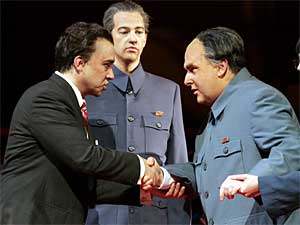 THU ▪ 3
The ArtTec Speakers Series at UNT focuses on what visual and performing artists can learn from science and other disciplines. In this week's installment, Art and Science Intersect, Universiteit Leiden professor Robert Zwijnenberg discusses the work of his institute in the Netherlands fostering collaboration between artists and genomics researchers, while University of Denver professor Timothy Weaver looks at media technology and the environment. The lecture is at 8pm at UNT Music Bldg, Av C & Chestnut St, Denton. Admission is free. Call 940-565-2791.
FRI ▪ 4
Hard to believe it's been more than 10 years since Steven Alan McGaw's landscape with stick figures first took the stage here in Fort Worth. Since then, this meditation on a school shooting has been performed in regional theaters all over the country. This weekend, Arts Fifth Avenue holds a staged reading to recognize the play's 10th anniversary. The readings are at 8pm Fri-Sat at 1628 5th Av, FW. Tickets are $8-12. Call 817-923-9500.
SAT ▪ 5
No doubt hoping to catch the Black Swan-inspired wave of interest in ballet, TCU's Spring Dance Concert includes Act II of Swan Lake, in which the prince first meets and falls in love with the white swan, Odette. In addition, the concert includes the "Élégie" from Balanchine's Tchaikovsky Suite No. 3 and new works by Stafford Berry Jr. and the team of Li-Chou Cheng and Suki John. The concert runs Fri-Sat at Ed Landreth Auditorium, 2800 S University Dr, FW. Tickets are $5-10. Call 817-257-7615.
SUN ▪ 6
Fort Worth Weekly's own Laurie Barker James will be among the lucky few on the judging panel for Cookin' for Kids, the 14th annual edition of the Kids Who Care fund-raiser that pairs star chefs from the area with local celebrities to compete in a race to create the best dishes from a surprise basket of ingredients. The event is at 5pm at River Ranch, 500 NE 23rd St, FW. Tickets are $125. Call 817-737-5437.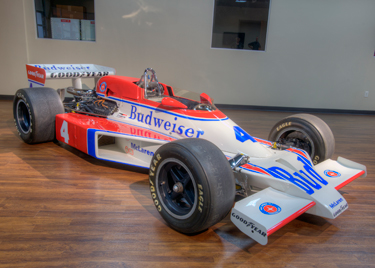 MON ▪ 7
Sports history continues to be made in Fort Worth (witness the Horned Frogs' undefeated season), so perhaps now's a good time for Fort Worth Museum of Science and History's new Fort Worth Champions exhibit. The show includes tons of familiar names (Davey O'Brien, Bob Lilly, Johnny Rutherford, Paulie Ayala) as well as the Horned Frogs' 2011 Rose Bowl championship banner. The show runs thru Sep 5 at 1600 Gendy St, FW. Admission is $6-7. Call 817-255-9300.
TUE ▪ 8
The Texas Brahmas have been on a tear recently, and though Allen has a huge lead on them for the division title, that gap might close quickly if the North Richland Hills team keeps playing the way they have been lately. With the playoffs beckoning, the home squad welcomes the Bloomington Prairie Thunder to NYTEX Sports Centre this evening. The puck drops at 7pm at 8851 Ice House Dr, North Richland Hills. Tickets are $12-30. Call 817-336-4423.