There's some winnowing out going on in that hot West 7th Street corridor — Delaney's Irish Pub and So7 Bistro are gone. But that hasn't kept Dallas-rooted restaurant companies from sending up new shoots in the area. A few months ago, Patrizio Pizza, Pasta & Vino; Bailey's Prime Plus; and Fireside Pies were joined by Hacienda San Miguel, the latest venture by Hugo Galvan, chef/owner of Big D's Café San Miguel.


A 16-seat bar sits in the center of Hacienda San Miguel, but what really dominates the space is a huge flat-screen TV. The area is not a bad place to sit and wait for tardy companions –– unless, of course, you don't want to watch sports. If people-watching sounds like more fun, the restaurant has a nice patio, although the weather's probably a little warm now for al fresco dining. If you're lucky or early, you can score one of the intimate, pillow-filled booths lining the dining room perimeter.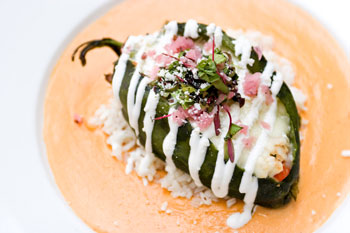 I'd heard the service is uneven and that patio service is especially slow. But that wasn't the case on the evening I visited. Server Brad was well-versed in the menu and in customer service. At one point, he replaced the odd-tasting grapefruit drink he'd suggested with a traditional margarita. "I'm not gonna make you drink what you don't want to," he said.
Chips with two salsas started the meal: a mild green tomatillo made creamy with the addition of a little avocado, and a spicy puréed red. Both were yummy.
The sopes rancheros appetizer consisted of three cute little corn masa cups stuffed with outrageously tender brisket and a bit of cojita cheese. I wasn't crazy about the bean-and-corn relish that came with the appetizer, but I easily pushed it to the side.
While I was at the bar waiting for my dining buddies, a guy in a chef's jacket came over and sat down. If the universe produces a chef for you while you're sipping a margarita at a restaurant, surely you should ask for dinner recommendations. This guy happened to be Chef Galvan, who, when prodded, recommended the seafood chile poblano. And he was right. A plate-covering, slightly spicy poblano came smothered in different kinds of fish and cheese, bathed in a lobster cream sauce. Nontraditional? Oh yeah. Tasty as all get-out? Yes.
The show-stopping, plate-licking dish, though, was the tuna tacos: sashimi-grade tuna just seared around the edges and wrapped in corn tortillas with a delightfully spicy-sweet mango pico de gallo and some really good black beans. That's it. Simple but fantastic, these tacos put traditional, white, fried-fish tacos to shame.
In retrospect, the chicken enchiladas with poblano cream sauce were well executed but not as fabulous as the other entrées. Moist pulled chicken came bundled in traditional corn tortillas, smothered in cream sauce, and served with white rice, which was a nice change from the dirty rice that usually accompanies enchiladas. It was good comfort food, just not as good as the other two, more stunning plates.
The tres leches cake was insanely moist, as a tres leches cake should be, but it looked different from any I'd ever seen. The dessert was cut in a wedge, not a square, and the topping was almost like a cream-cheese frosting, making the whole package way too sweet.
The apple churros were an inventively presented take on apple pie a la mode. There were four of them, shaped like cigars, stuffed with a cinnamon-tinged apple filling, and inserted into a wine glass full of delicious vanilla-bean ice cream. The dessert was the better choice of the two. The filling was hotter than Texas asphalt. While it made a lovely combination with the cold ice cream, be forewarned.
Hacienda San Miguel
2948 Crockett St, FW. 817-386-9923. Sun 10:30am-10pm, Mon-Thu 11am-10pm, Fri-Sat 11am-midnight.
All major credit cards accepted.
Sopes rancheros…………………………….. $ 7.95
Enchiladas w/poblano cream sauce…… $12.95
Seafood chile poblano………………………. $15.95
Tuna tacos………………………………………. $13.95
Tres leches cake……………………………… $ 6.25
Apple churros…………………………………. $ 6.25