In 1970, British playwright Michael Frayn watched a performance of one of his own comedies from the wings of the theater and found that the action going on backstage was funnier than what was happening on the stage itself. From that experience, he eventually wrote his play Noises Off, concerning the attempts of a British theatrical company to stage a dreadful sex farce called Nothing On.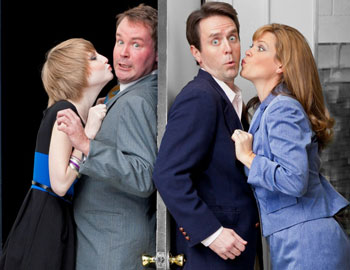 Each of the three acts shows us different performances of the first act of Nothing On (all of them taking place in a different provincial English town with a real-life hyphenated name), with the actors' personal issues and relationships all contributing to a general and hilarious deterioration of the production, with forgotten lines, bungled entrances, misfiring props, and at one point three actors portraying the same character all winding up on the same stage and reciting the same lines. The dexterity with which Frayn juggles the action in front of the fictitious theater audience and the backstage shenanigans that we see is incredible to behold.
Theatre Arlington puts on the farce for three weekends, using Frayn's updated reworking of the play from 2000, which (among other things) edits out some dated references. If you've ever sat through a sad, uninspired production of a swinging-doors farce, this should repay you for your experience.
Noises Off runs Jan 13-29 at Theatre Arlington, 305 W Main St, Arlington. Tickets are $12-17. Call 817-275-7661.