Basketball arrived in Tarrant County this year. I know because I had thousands of people screaming it in my ear.
A couple of weeks ago, I wrote a column about how the area had experienced an all-time high in men's college basketball success. This past week, the local boys took it up another notch.
While the Dallas team about which I wrote, SMU, fell victim to a first-round NCAA tournament upset, Texas Wesleyan, Texas Christian, and Texas-Arlington posted some impressive results.
You might not have filled in their names in a bracket, because they weren't playing in the NCAAs. But the single-elimination events in which they participated offer ample history and prestige.
Both the National Association of Intercollegiate Athletics (NAIA), where TWU played, national championship tourney and the National Invitational Tournament (NIT), postseason home for TCU and UTA, predate their NCAA counterpart. The NIT began its championship in 1938 after the NAIA had initiated its version for mostly smaller schools a year earlier. The NCAA started its tournament in 1939, but the NIT remained the more coveted title for some years thereafter.
Today, of course, there's only one Big Dance. But for those schools unaccustomed to appearing there with Duke-like frequency, any late March competition feels meaningful.
The crowds felt substantial, too. UTA hosted two NIT games. A Monday win against Akron drew more than 5,000 fans and 6,000+ saw a furious comeback fall just short in a quarterfinal against Cal State Bakersfield. Both crowds were season highs.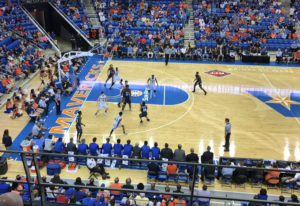 TCU put nearly 6,000 fans of their own into Schollmaier Arena for their NIT quarterfinal against Richmond. Beyond just numbers, however, the atmosphere felt like a big game, one in which the winner would earn a chance to compete in the historic Madison Square Garden. The Horned Frogs played a complete game to earn themselves a trip to New York City. I stood below the student section for much of the game and can testify as to the volume and occasional maliciousness of their vocalizations. They were into it.
One observer who attended Richmond's first round game in Tuscaloosa noted the atmosphere and intensity there paled in comparison to the ferocity of Frogland. For a school like Alabama that revolves around football national titles, an NIT berth may be no big deal. But for schools without such a pedigree, a postseason appearance offered a reason to celebrate.
Speaking of national titles and celebrating, TWU earned the ultimate honor in its classification. The Rams went to Kansas City and won the NAIA national championship. They didn't get to play in front of home crowds, and they had to run the gauntlet of a full tournament packed into a week. It's an impressive and significant accomplishment.
These west-side squads have pushed men's hoops to the forefront of local consciousness. I have a proposal to help keep it there. Back in the '70s, Wesleyan's athletic director at the time (I know this because he is my father) proposed a local tournament among the Rams, Mavericks, Horned Frogs, and Mustangs. The bigger schools didn't want to do it then, but maybe they should revisit the idea.
While TCU and SMU have played each other most years since 1918 (The Ponies won this past December 7), the rest of the group has matched up more sporadically. TCU hasn't faced UTA since the Mavericks took the Frogs to overtime in both 2006 and 2007. UTA and SMU last played in 1997. TWU hasn't taken on UTA since 2009, and hasn't faced TCU or SMU since losing to both in 1982 (taking SMU to OT in Dallas).
One argument for such a tourney involves students. Last Tuesday, I chatted with Will Bryan, who handles media relations for Richmond's men's basketball team. As we watched the squads warm up, I asked him if they would stay in Fort Worth that night. He told me they would fly back because the players had school the next day. This season, our local student-athletes played mid-week games in the likes of Boise, Idaho; Morgantown, West Virginia; and Moraga, California. More local games mean fewer classes missed and more sleep before the ones the young men do attend (assuming they go to bed at a reasonable hour, as I always did in college and still do).
Another reason the teams should play each other is to keep this momentum going. The more they can do to stoke interest in the game here, the more it does to encourage participation and entice local recruits. A home-grown tournament would generate media coverage and outreach opportunities.
Texas Wesleyan, of course, is the wild card here. NCAA Division I schools wouldn't benefit from an expected win against the Rams, but a defeat would be the equivalent of a football loss to a DII school. And as NAIA programs go, with two national titles in just over a decade, the east-siders are stout. Still, if you're TCU, don't you want a shot at leveling your record with your crosstown neighbors? Thanks to victories in 1937 and 1947, Texas Wesleyan currently owns the "Best of Fort Worth" title by a two-wins-to-one margin all-time.
If a tournament could help push the sport forward in this area, the DI athletic directors should consider it – especially if they can find a way to make money from it. Such a series should certainly have title sponsor appeal, especially during what could be a golden age of men's hoops in North Texas. My eardrums can attest to it.