Every year around this time, we like to look back at the work we've done over the past 365 days or so and the work of other media outlets and give a Bronx cheer to all of the bad actors or just plain out-there folks in our midst and often beyond. The glaring downside is that, even after 24 editions of our annual Turkey Awards, nothing has really changed. There are still politicians who care only about getting re-elected and/or lining their wallets with blood money. There are still unscrupulous types who prey on dreamers or the less fortunate. There are still backward biases against good folks based merely on the dictates of Big Religion. Nothing really ever changes, yes, but that includes us and other members of the free press. We will be here as long as skullduggery and dumbassery exist. You can count on it. – Anthony Mariani
Cookin' the Books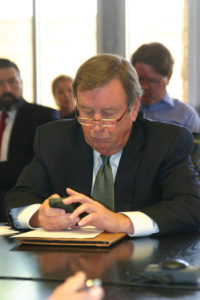 Turkeys are coming home to roost at Panther Island. The $1.1 billion (and climbing) private economic development plan disguised as a public flood control project is bogging down in its own hubris. Critics say the flood control portion could be completed for much less money, say, around about $20 or $30 million. A billion bucks is vital for flood control, at least according to proponents like Jim Oliver, general manager of the Tarrant Regional Water District, which provides water for 2 million people and implements flood control measures for 11 North Texas counties. Nobody can say exactly how much money is or isn't needed for flood control because a cost benefit analysis hasn't been done during the two decades that this project has been kicking around. Why? Because Oliver and water district board members don't want such a study. Why? Why do you think?
The project is drifting now, even after local taxpayers recently approved $250 million worth of bonds for the water board to issue. Still, at least $700 million more is needed – money that doesn't appear to be coming from the federal government or anywhere else anytime soon. Fort Worth officials are now demanding an audit, even though most of them have been coddling and enabling Oliver and the water district from the beginning.
Flash in the Pan
If there's any entity that deserves a huge helping of slimy, gristly, cartilaginous turkey neck this year, it's the Texas Alcoholic Beverage Commission for granting an alcohol sales permit to Library Bar owner and accused rapist Israel Espiricueta, despite the fact that he was caught on camera at his own bar sexually assaulting an unconscious customer after hours. In June, the Star-Telegram wrote that a police affidavit stated that the bar's surveillance video depicts Espiricueta and his victim socializing and drinking with employees past the bar's closing time, after which the employees leave and the woman passes out, which, by itself, is supposed to be grounds for permit denial. Alcoholic beverage consumption after hours and providing alcoholic beverages to an intoxicated person are not allowed.
Video evidence depicting violations of Texas's alcohol code and a sexual assault should handily torch one's chances of obtaining a liquor license from the TABC –– but only if the TABC investigator watches the video. In Espiricueta's case, investigator Andrew Pena did not because he needed a 25 GB flashdrive to view the file. Somehow, fulfilling this requirement got lost as he went up the chain of command, and his supervisor, Lt. Sheila Doyle, emailed TABC Maj. Cathleen Cavazos that no violations had been found and that "the video did not show them consuming after hours," which, in its direct contradiction of Fort Worth police's affidavit, indicates that nobody at the TABC actually watched the video. The silver lining: Despite the TABC's incompetence and/or inability to procure a piece of easily and cheaply purchased consumer technology, Espiricueta, as of this writing, is prohibited from possessing or consuming alcohol and cannot be inside his own business during operating hours. He must also wear a GPS ankle bracelet while he awaits trial. Hopefully, its radius doesn't extend to the Thanksgiving table.
Eat and Run
In the run-up to the midterm elections, a lot of my excited millennial friends reveled in the "Beto for Senate" circle-jerk. Yard-signs in place, beers with Beto drunk, early morning runs with the stork-like political honey-pot sweatily completed. Poll after poll showing a clear advantage for the Zodiac Killer over his less murderous opponent could not disabuse these people of their ineffable conviction that Beto was going to redraw the political map while skateboarding his way to Washington fueled by Whataburgers and punk rock. Many people were inspired by the boyish charm and boundless energy of the Beto campaign to vote for the first time. From Wednesday, Nov. 7, onward, they all cried, hugged it out, and generally disavowed politics, bemoaning their "wasted vote." To which we say, Get a grip. Change is incremental, often glacial. Beto lost the battle so that Texas may win the war. Suck it up and keep casting ballots. Never forget, despite the oh-so-wise opinions of political hacks Wednesday-morning quarterbacking, Beto fuckin' loves you guys.
Recipe for Racism
One Varsity Tavern bouncer didn't let one guy in allegedly because he was wearing Jordans, but a different bouncer let in another guy who was wearing the exact same shoes just a few moments later. The difference: One of the guys was black, the other white. Guess which one was which.
For years, there have been rumblings that the dress codes of Varsity Tavern and some other West 7th hotspots allowed for discrimination. Take the Jordans. White people don't wear them. Mostly African-Americans do. By posting "no Jordans," places like Varsity Tavern may be giving their bouncers the green light to discriminate based on race. We understand that there's an outspoken racist in the White House, but Fort Worth should be better than that. Fort Worth needs to be better.
We've heard all the excuses. Nightclub bouncers have a hard job. They have to keep the girl-to-guy ratio about even –– maybe the first guy arrived at the wrong, guy-heavy time. The first bouncer was also black. Why would a black guy not let in another black guy? And if Varsity Tavern was so racist, why is the place one of the highest billing establishments in not just Fort Worth but all of Texas.
All of these points are valid, sure, but racism is all the rage these days (since 2016), and if one person's rights were violated, then all of ours were.
With a Side of Frog Legs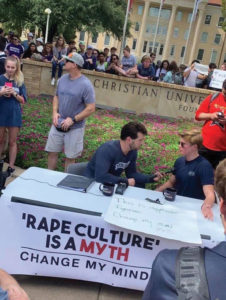 At TCU in September, amid the hearings for Brett Kavanaugh, the new Supreme Court Justice who sexually harassed women or worse as a young adult – not a boy – and during an exhibit at The Galleries at TCU highlighting the alarming prevalence of sexual assault on college campuses, some straight white guy (of course) decided to set up a table on campus and record his interactions with passersby in response to his banner proclaiming, " 'Rape culture' is a myth. Change my mind." Though we will not give this shit-gibbon the oxygen of publicity he so desperately craves, we are compelled to point out in the clearest terms possible that cock-wombles like this brah are a singular cliché that is impossible to underestimate. Trot on, one-trick pony.
TCU didn't come out looking good either, with the top brass mumbling some nonsense about the First Amendment and whatnot, but the school's Women and Gender Studies program immediately denounced the attention whore and offered resources for young women possibly re-traumatized by his revolting presence.
Meanwhile, Back at the Plantation
NFL owners aren't the most woke set of people, considering that they're mostly really rich, really old, really male, and really white. Most of them still haven't grasped what the kneeling protests at NFL games were about in the first place, but they do comprehend the basic notion that their players are human beings who occasionally feel strongly about topics that don't relate to football. That idea, though, seems to have been lost on Jerry Jones. In late July, the national anthem protests among NFL players were dying of their own accord, but that wasn't good enough for Jer, who piped up that he was ordering all Cowboys players to stand for the anthem before games. We would've loved to see some player inspired by Colin Kaepernick be willing to torch his career and file a massive job discrimination lawsuit against the Cowboys, but there was no need for that, since after the owner's my-way-or-the-highway comments, the NFL put a muzzle on Jones and put the kibosh on disciplining players who kneel for this season. We give the Cowboys a wishbone. Perhaps Dak Prescott can use it to extricate himself from The Sunken Place.
A Slice of Appeal Pie
If there's one thing lawyers hate more than losing, it's undoing a win. That's what Tarrant County's top lawyer thinks of the case of Johnnie Dunning. In March, District Attorney Sharen Wilson had the gall to challenge an appeals-court decision casting into doubt the 1996 guilty verdict that sent Dunning to prison for 21 years. New DNA evidence all but exonerates the 57-year-old African-American Fort Worthian for allegedly raping a mentally challenged 12-year-old boy who lived nearby. Wilson is appealing the new trial because she agrees with "the trial judge who heard all the scientific testimony," as she told the Star-T. And that "scientific testimony" amounts to the boy picking Dunning out of a photo lineup. Dunning's attorney believes the boy was coached by his actual attacker, Lorne Clark, the boy's stepfather who pleaded guilty to sexually assaulting two girls who lived at the same apartment complex as him and the boy a few weeks before Dunning's trial began. The science-loving trial judge, though, would not allow anyone to hear that evidence against Clark, who, incidentally, had also been convicted of a previous sexual abuse charge in Arkansas. In Tarrant County, justice isn't just blind. It's as dumb as a gobbler, too.
All White Meat
In September, a group of Proud Boys, the collective of far right-leaning hipster-beard bros started by Vice magazine cofounder Gavin McInnes, descended upon Cultural District watering hole Ye Olde Bull and Bush en masse to drink beer and browbeat customers who don't share their nationalist, misogynist beliefs. If you ask a Proud Boy, those beliefs are just about celebrating American values, and anything that appears controversial about them is because they are vociferously opposed to political correctness and white guilt. But ask people like the ones who run the Southern Poverty Law Center about the Proud Boys, and they'll tell you that "rank-and-file Proud Boys and leaders regularly spout white nationalist memes and maintain affiliations with known extremists. They are known for anti-Muslim and misogynistic rhetoric. Proud Boys have appeared alongside other hate groups at extremist gatherings like the Unite the Right rally in Charlottesville." The FBI also has a differing opinion on the Proud Boys than they do of themselves. On Monday, The Guardian reported that America's top cop shop now classifies them as an "extremist group with ties to white nationalism."
At the Bull and Bush, the Proud Boys' tactic was basically to engage customers in conversation and then respond to any questions by thronging in increasing numbers. On the internet, individual Proud Boys evince a desire to have peaceful intellectual conversations, but in the aggregate and in public, they seem to incite or invite violence. In October, a group of Proud Boys attacked anti-fascist demonstrators in New York City, beating them while shouting homophobic slurs. So, really, when a group of them shows up at a local bar, it's safe to assume they're looking for a confrontation on some level, even if it doesn't escalate beyond surrounding someone and forcing her into a vaguely political verbal sparring. The Bull and Bush was caught by surprise but made it clear that the Proud Boys are not welcome there. A heaving slice of pumpkin pie for one of our favorite watering holes.
What a Ham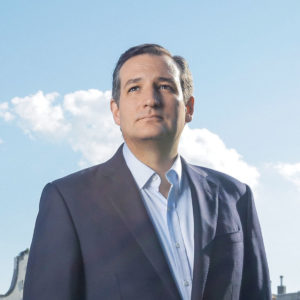 Let's be honest. No one has ever mistaken Ted Cruz for a yoga master. He's certainly reptilian, but that body of his just does not look like it can twist itself into a pretzel and then smile at the same time. But, yes, Cruz was doing exactly that just a few weeks ago when he begged Donald Trump to hold a rally with him to help him keep his U.S. senate seat. "God bless Texas," Cruz said as he took the stage at the Oct. 22 event in Houston, "and God bless President Donald Trump!"
Yes, Cruz was pretzeling. His wife, whom Trump said was ugly during the Republican primaries in 2015, was probably pretzeling too. Didn't bother Lyin' Ted (another Trump term). It also didn't bother him one bit that Trump had suggested that Cruz's father had been part of the Kennedy assassination either. No, on Oct. 22, Trump noted that no one in the senate had helped him more with his tax cut for the rich and his deregulation of all things decent than *gulp* "Beautiful Ted."
That was one hell of a sycophantic shitshow, Teddy boy. And since we're pretty sure that our senator lost the lips he had in Trump's rump that night, we figure it's only right to give him some turkey lips to work with from now on, just in case he needs to shut down the government over humane policy again.
Wishboners
Sports Illustrated broke the story in February about Dallas Mavericks former president and CEO Terdema Ussery groping female employees, making loathsome jokes to them about gang rape, and covering up for male employees who did the same and worse. We say SI "broke" the story, but knowledge about Ussery had found its way into the local press as far back as 1998. Yet we're asked to believe that an owner like Mark Cuban, who brags about being a hands-on manager, had no idea that this was going on for the 15 years that Ussery was reporting to him. We're also asked to believe the team's boilerplate corporate rhetoric that they value their female personnel, the same crap that the team spouted back in the '90s when this came to light. We're sure they respect women, and Dirk Nowitzki will average 45 points per game next season while leading the Mavs to an NBA title. We give the organization a Flagrant 2 and turkey giblets, because the other parts of the bird are too suggestive for the front-office group.
The Puritanical Spirit
If you want to know why nobody cares what they think at Southwestern Baptist Seminary, look no further than the institutional rot personified by its disgraced former president Paige Patterson. This self-styled man of God and former head of the Southern Baptist Convention was fired in May for lying about rape allegations after a history that includes bragging about steering battered wives back to their husbands and giving the Bible's blessing to sexual harassment of underage girls. Did the reverend express remorse for his long history? Hardly. He released a statement whining about mean people hurting his family, then resurfaced a few months later to make fat jokes and blast the #MeToo movement as a mob of false rape accusers. God save us all from powerful white guys who behave like this and their legion of enablers (including Patterson's buddy in the White House). We give turkeys' eyeballs to these men who only seem to have blind eyes to turn.
Pilgrims' Pride
In a rare (dare we say progressive) moment, Tarrant County Republicans elected Shahid Shafi, a Muslim surgeon and Southlake City Councilmember, to the post of vice chairman. Then sadly, nay, predictably, the party of "very fine people" has been mired in controversy ever since a sub-group led by wingnut racist Dorrie O'Brien asked that Shafi's appointment be reconsidered, hinting on various Facebook posts that he is connected "to Islamic terror groups."
To their credit, the majority of local Repubs have stood behind Shafi, though it remains to be seen whether or not the fringe crazies who now run the party will succeed in their absurdly racist, nationalistic, xenophobic, and just plain stupid quest to oust an ostensibly competent officer based on his religion and skin color.
Let's hope reason and decorum prevail, and the local version of the GOP can get back to just being covertly racist. Until then, someone send O'Brien a mirror, so she can see what a real turkey looks like.
Stirring the Pot
Ever since a new management team came in, the Fort Worth Star-Telegram has tacked hard to the right in a pathetic attempt to usurp Fort Worth Weekly's position as the city's best newspaper. (Yeah, we passed them some time during their latest round of staff cuts.) Still, there's tacking to the right and then there's kowtowing to the racists, transphobes, and misogynists in your readership. That's what the Star-T's cartoon on October 18 entitled "A Field Guide to Liberals" did. Because the local daily is too cheap to employ their own cartoonists anymore, they picked up something from a nonentity named Rick McKee in Augusta, Ga., that caricatures left-wingers as she-men, Rachel Dolezal, and crazy cat ladies. Clearly that flies in a cesspool like Augusta, since McKee is still employed there, but here it occasioned well-deserved derision and opprobrium on a national scale, as well as a weak-ass apology from editor Steve Coffman. Years ago, we at the Weekly used to feel jealous of the Star-Telegram, but now we just feel sorry for them. Here's a moldy cranberry along with our pity and contempt.
Leftovers
When kids cross into the United States illegally and on their own, they must be housed someplace. Traditionally, that place is with relatives or foster homes until a decision is made on whether or not they can stay in the country. 
That tradition went out the window in June, when a tent city sprung up in the West Texas desert town of Tornillo, about 30 miles south of El Paso. Initially a spot for children separated from their parents who were seeking asylum, which is legal, when family separation ended (on paper, at least), the tents became home to kids between the ages of 12 and 17 who had entered the country illegally without an adult. 
The little city quickly grew from a place with 400 beds to one that could hold 3,800 kids. In early October, ICE made hundreds of raids on homes where these kids were staying and pulled them out of bed to bring them to Tornillo. Nobody can tell us why that was done. In either foster homes or with relatives, these kids were going to school and interacting with family members. In the tent city, while they have some access to legal help, television, medical care, and religious services — and they can play soccer — they have little interaction with adults or loved ones in a normal setting.
Now most of them are going to stay only about 29 days before they are sent back to their families or foster care or shipped back over the southern border, so it might not seem like such a bad deal. But the question remains that if they are going back to where ICE took them from, why were they taken?
The answer is money. BCHS, a nonprofit overseeing the operation for the Department of Health and Human Services, is being paid $750 per night per bed. That's nearly 10 times what private prisons generate for an average felon per night. And, no, BCHS execs have never explained to the Fort Worth Weekly, despite numerous attempts on our part, how the heck they came up with that ridiculous number and whose arm they broke to get the feds to pay it. For that amount, the kids should have their own soccer stadium. And for turning those desperate kids into a moneymaking machine, both HHS and BCHS are getting a turkey neck to choke on.
Felonious Feast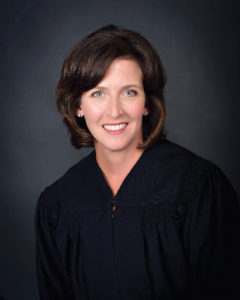 Precinct Two Justice of the Peace Mary Curnutt might be interested in buying Tarrant County's oceanfront property. After all, she was apparently gullible enough to believe – with little evidence, no corroboration, and lax due diligence – a local woman's story about being locked out of an apartment that she allegedly shared with her fiancé. Her true love, as it turned out, was Brad Laffoon, a man who barely knew the woman and was never engaged to her. In reality, she was the troubled mother of one of his neighbors in a northern Arlington condominium complex. A constable with a court order showed up at Laffoon's place to insist that he hand over the condo keys to the woman. Laffoon tried to explain that the woman was lying, but the constable told him to take it up with the judge. While Laffoon was trying to settle things with the judge, someone unlocked his front door, went inside, and stole $4,000 worth of tools along with expensive prescription heart medicine. Not long afterward, the neighbor said his mother had passed the stolen tools to another relative, who was selling them online.
Eventually, Cornutt issued a notice telling the woman to vacate the premises. By then, the woman was long gone along with the tools and medicine. Laffoon said Cornutt showed no concern for him and no remorse for the problems she created by forcing him to give his condo keys to a near stranger. Maybe the judge should pretend her gavel is a turkey leg.
Peck-erwoods
The nonprofit National Rifle Association of America could earn a turkey most any year for its tone-deaf stance on gun control and penchant for spreading barrels of money to lawmakers to prevent new laws from slowing down the sales of guns to most anyone with an itchy trigger finger. This year, NRA Executive Vice President Wayne LaPierre sent letters to the nation's registered gun owners half-begging and half-demanding for them to buy memberships so that we can all "stand together right now to defend our country and our freedoms." The NRA has been around for about 150 years but didn't become overtly political until the Ronald Reagan era. Since then, the group has become just another pack of lobbyists seeking protection as the gun industry scrambles to prevent any meaningful reform amid a constant flurry of mass shooting. "You and I know our enemies are not going away," LaPierre wrote. Which enemies? The ones gunning down innocent people on a daily basis? Nope. According to LaPierre, our "enemies" are the "extreme leftists" trying to "tear our nation apart." Naysayers might view La Pierre and his bullying profiteers as the enemy. The NRA's claims of patriotism and loyalty to the Second Amendment are ringing hollow these days. La Pierre's assurances that his group is nonpartisan, grassroots, and focused on truth and justice rather than money and power have been shot full of holes time and again.
Tur-Kay
Back when Kay Granger was mayor of Fort Worth and considering a run for the U.S. House of Representatives, both Democrats and Republicans wanted her to run on their ticket. She was considered accessible and intelligent and sometimes even sensitive to the needs of her constituents. 
When she decided to run on the Republican ticket, in fact, some conservatives thought she was too liberal. 
Sometime during the last 20 years, that all changed. She has become a rubber stamp for all things right-wing, has not held town hall meetings for years, and, hell, she doesn't even respond to most reporters' requests for comments on issues that affect her own district.
So it wasn't really a surprise that when Vanessa Adia decided to run against her for her District 12 seat Granger chose not to have a single debate with her. Disappointing, yes, but typical of someone who has been in office so long that she has become insulated and isolated, and the little people, even those running against her, just don't warrant attention.
Kay, your constituents do matter. Time you wake up and come back down to earth. Meanwhile, since you're apparently doing so well without our help, you must not need much. Therefore, all you're getting is one turkey foot this year. Enjoy it. It's all you deserve.
Rolls Over
The Wag! dogwalking service's concept is reliant upon trust. For some users, that trust is fraying faster than a leather leash left too long in the rain. The company, headquartered in Los Angeles, offers to send freelance dog walkers to your residence and walk your furry little Fido while you're away, but a Fort Worth woman is among the growing number of customers who say inept or unscrupulous dog walkers haven't lived up to their promises. Shawn Hughes said one of the dog walkers sent by Wag! loaded her Labrador retriever, Reagan, into a car and drove it around the block a few times rather than doing any actual walking. Wag! walkers use a GPS system to let customers follow their dogs as they are supposedly being walked. Another dog walker put Reagan into her kennel after being walked but neglected to remove the dog's harness, which became tangled, leaving Reagan hogtied in an awkward position and yelping with pain. News reports in recent years have exposed other fraudulent activity by Wag! walkers, along with instances of dogs being lost or killed while under the care of walkers. Hughes tried to report her problems but discovered that Wag! customer service reps are about as responsive as an old blue tick hound sleeping on a porch in the middle of summer.
Peace Treaty?
All attorney Sean Lynch wanted to do was brighten up the Near Southside a little when he hired DeMario Davis to paint a west-facing mural on the side of his law office. The mural, which depicts a colorful greeting card celebrating Fort Worth, was widely loved throughout the area.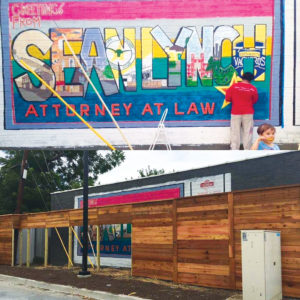 Last June, Tarrant County Infectious Disease Associates (TCIDA) moved in next to Lynch's office and built an 8-foot-high fence that appears to have no other purpose other than to block the artwork. Not only was that a total turkey move, but the fence was not even a part of the rendering that TCIDA submitted to both the Near Southside Design Review Committee and the city's Urban Design Commission. Also, by ordinance, fences on such a property can be only as high as six feet, so in addition to being a bunch of philistines, the docs who run TCIDA are also scofflaws. 
Maybe this holiday season will inspire the doctors to comply with the law and stop being such crappy neighbors. Of course, we'd be really thankful if they'd tear down the fence altogether.
Don't Fall for It
Fort Worth couple Erin and Sergio Razo earn this turkey award for acting like conniving finaglers making promises they couldn't or wouldn't keep. In the end, they wasted a lot of people's time and money as they vowed to transform an abandoned 1950s-era incinerator on the city's southeastern side into an art collective, skateboard park, community garden, little-house development, and blah blah blah. (Their plans evolved by the minute depending on whichever rube stumbled into their path next.) Their alleged scheme was to convince the incinerator's owner to provide them access to the property and then approach people around town who fostered dreams and exploit them. If someone liked art, the Razos would claim they were transforming the incinerator into an art collective. Dig skateboarding? Cool, grab all your shredding buds, buy the supplies, and build a skate park at the incinerator. Oh, you want to construct little houses for poor people? Let's do it at the incinerator! To convince people they were legitimate, the Razos claimed to own the incinerator and nearby property, which was one lie stacked on top of another. Eventually, their lies were stacked up so high, they teetered and collapsed into a cloud of broken promises and shattered hearts. 
Gravy Errors
Twenty-three. As of this year, that's how many Thanksgivings Darlie Routier has been in a prison cell while her family has spent the holiday with an empty place at the table.
2,280 – that's the number of people who have been exonerated in the United States in recent years, according to the Innocence Project.
Zero. That's the number of times those who put Darlie on death row in Gatesville through a rushed, half-assed investigation, junk science, and sexist character judgments have acknowledged that maybe, just maybe, they got it wrong.
Darlie was sent to death row in February of 1997, shortly after her 27th birthday. She was accused of having stabbed to death two of her three sons – Devon, 6, and Damon, 5 – as they slept in front of the television in the family room of their Rowlett home in the wee hours of June 6, 1996. Darlie, who had been sleeping on a nearby sofa, claimed that she and her children were attacked by an unknown intruder. Her right arm was the cut to the bone, her throat was slashed to within two millimeters of her carotid artery, and she had other injuries, such as cuts on the underside of her fingers, the kinds of cuts one would sustain if one grabbed a knife that was being used to attack them. Darlie's then-husband, Darin Routier, and their baby, Drake, were asleep upstairs and unharmed.
Despite Darlie's significant injuries, freelance crime scene investigator James Cron, Rowlett police, and Dallas County prosecutors claimed that she inflicted the injuries on herself to disguise that it was she who stabbed the boys. Why did she do it? Because she was self-centered, they said, and the children threatened her lifestyle and caused her to no longer be the center of attention. The prosecution also claimed that she ran 75 yards down a back alley on bare feet to deposit a bloodstained sock as part of the staging.
Sure. That's not at all outrageously sexist or absurd.
Last summer, ABC devoted four hour-long segments of its seven-episode docu-series The Last Defense to the Routier case. Even with all that airtime, though, some of the issues in the problematic case still weren't touched upon. No mention was made of the quarter-million-dollar life insurance policy on Darlie, of which Darin was the beneficiary, or the ethical issues with now-deceased state District Judge Mark Tolle that likely sealed Darlie's fate, or the astonishing 33,000 errors in the trial transcript.
As the years go by and those involved in the case grow grayer or die off (Darlie's trial attorney, Doug Mulder, died earlier this year), former prosecutors Greg Davis and Toby Shook will continue to spout their cockamamie theory about Darlie and deny the undeniable: that they relied on blatantly sexist character judgments to bolster a weak case and score a win. We're willing to bet that no man has been put on death row in part because he visited a strip club, attended church infrequently, wasn't the center of attention often enough, or sprayed Silly String on his child's grave to commemorate a birthday the child would never celebrate.
Forty-eight. That's how old Darlie is now.
163 – that's the number of people who have been exonerated from death row nationwide.
No Home for the Holidays
We probably all agree that children should be in stable, loving homes. But Catholic Charities of Fort Worth (CCFW) carries that belief a step further. Children should be in stable, loving homes unless the parents in that home are gay, in which case kids are better off in a sterile, warehouse-like environment.
That seems to be the attitude of CCFW, which operates the only refugee-fostering program in the area. A rep at the organization didn't hesitate to ask Fatma Marouf to present a "Know Your Rights" workshop for immigrants but refused to let her and her spouse, Bryn Esplin, foster a refugee child. Marouf is a law professor and director of the Immigration Rights Clinic at the Texas A&M University School of Law in Fort Worth. She is well known for her work with refugees. Esplin teaches Bioethics at Texas A&M's School of Medicine. Both have supportive extended families.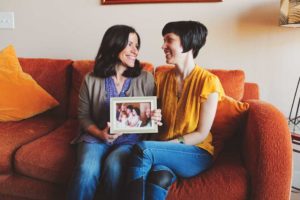 Hard to imagine that these two wouldn't make good parents, yet because of their sexual orientation CCFW would rather deny a migrant child the love the women are longing to provide and the support that Esplin, especially, is equipped to offer. CCFW operates with federal grant money. That means that regardless of whether we agree with the organization's policy of denying fostering rights to same-sex couples, our tax dollars are being used to fund discrimination disguised as religious freedom.
Marouf and Esplin filed suit against CCFW and the federal government after being told in a phone conference with CCFW that they must "mirror the holy family" to qualify as foster parents. There may be no Joseph figure in their lawful union, but then again, there seems to be little of Christ's love in a policy that denies homes to children who need them. l