The saga of Fort Worth's food-lovin' Albanese family continues.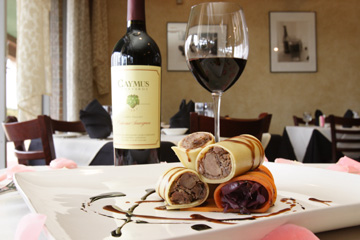 In the Cultural District, brother Bobby is getting back on his feet after two of his downtown restaurants, Fizzi and Ciao, closed over the past year. He's rolling and cutting sheets of homemade pasta at his sixth establishment, Piola. South of I-30, meanwhile, the family's flagship restaurant, Ruffino's, has been serving lunch and dinner for over a decade at its Forest Park neighborhood location. Such longevity is an impressive feat in the restaurant business, in which kitchens disappear faster than Chinese-manufactured toys from store shelves. But long-term survival doesn't always guarantee excellence. Chefs can easily get bored, content with cooking for regular customers who return out of habit or because they're too lazy to try anyplace else.
But the Albanese family seems to do what it can to avoid the trap of complacency. They're currently shaking up Ruffino's, with sister Asdren Albanese stepping in as new owner and co-executive chef. She and fellow executive chef Cory Garrison have reworked the menu of the TCU area's white-tablecloth'd mainstay, and, although not everything arrived as advertised on a recent visit, each dish sampled was inventive and excellent. Take the appetizer crostini spinaci, a variation on bruschetta that included four light, crunchy, garlic butter-infused pieces of toast topped with tomatoes, fresh spinach leaves, a sprinkling of basil flecks, and a gooey layer of melted mozzarella. It arrived with sun-dried tomatoes instead of fresh pomodoros — and with an apology for the change. The kitchen needn't have offered any regrets. The plump sun-drieds made for a perfect, sweet foil to the bitter fullness of the spinach.
These days, eating veal practically constitutes a dining-room hate crime, but if there's no sign of a PETA placard around, dig into Ruffino's Vitello Sardinia. The pounded-thin, smallish calf cutlets were tender rather than chewy (a hazard for this vaunted delicacy) and tightly wrapped in a jacket of golden breadcrumbs that was flash-fried and thicker than the veal itself. Along with whole spinach leaves, a soft white smear of tangy, musky goat cheese rested on top of the cutlets, and fettucine steamed underneath. The roasted chicken tagliatelle, also served atop a bed of fettucine, may have been the high point of the meal. The huge, juicy chunks of white meat had agreeably dark, oven-singed surfaces. The noodles' parmigiano-reggiano sauce was thick and rich but not cloying. When the whole thing was mixed together, the parmesan and chicken flavors formed a natural, hearty duet.
Capellini puttanesca is a classic Italian dish with black olives, white-wine marinara sauce, and, for added texture, minced anchovies. Capellini is a type of pasta often referred to as "angel-hair," although technically its strands are slightly thicker than those of true angel-hair pasta. Ruffino's subtracted the olives and added a half-dozen or so fat, succulent, tail-on shrimp — and the trade-off was savory and a tribute to the kitchen and to Asdren's belief that some last-minute improvisations can and should occur based on what's available at the moment. Life itself should be full of such happy surprises.
 Ruffino's
2455 Forest Park Blvd, FW. 817-923-0522. Mon-Fri 11am-2pm, Mon-Thu 5-9pm, Fri-Sat 5-10pm. Closed Sun. All major credit cards accepted
Roasted chicken tagliatelle $12
Vittelo Sardinia $9
Capellini puttanesca $12