Who would ever have guessed that a free-standing building at the very west end of Camp Bowie Boulevard with a sign outside advertising "Indoor Plumbing" would house one of the best Italian restaurants in Fort Worth? Nobody. And everybody would be wrong.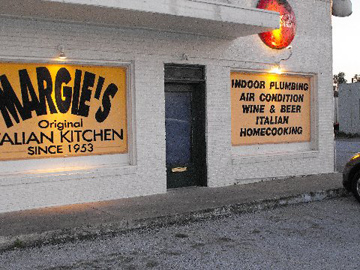 Of course, if you're looking for some fancy-dancy, nouvelle Italian/French/Japanese fusion fare, or a place to show off your newest beau to the paparazzi, Margie's Original Italian Kitchen isn't for you. But if you're hankering for a savory shrimp dish with lots of garlic, a pizza with succulent Italian sweet sausage, or a plate of fried calamari so light the little buggers almost float away, well, then, this is your huckleberry.
Opened in 1953, Margie's is one of the oldest restaurants in the Fort, a feat no doubt attributable to outstanding food and a relaxed and capable staff. And though the original owners are no longer with us, the owner for the past decade or so, Keith Tidwell, is doing his forebears proud, with big help from chef Sandra Rankin and her kitchen crew. On a recent visit, my guests and I started with that wonderful calamari (served with a spicy marinara and garlic aioli to die for) and an order of bruschetta: basic but hearty Italian bread toasted with delicious provolone and thin-sliced tomatoes and topped with a hint of parmesan.
Each of the appetizers would have served as an entire meal, but, martyrs that we are, we soldiered on, with the house special of tortellini soup. The light chicken stock and chewy pasta were accompanied by sumptuous spinach-packed dumplings. And the meal only got better. We had a pizza that was closer to New York-caliber than any I've had since moving to Texas from the Big Apple years ago: fresh, thin crust, zesty tomato sauce, thick mozzarella, and plenty of that top-quality Italian sweet sausage.
Then there was the grilled shrimp Fra Diavolo, served with that spicy marinara over linguini. The shrimp were plentiful and the sauce biting – it wasn't a hot sauce exactly, but it packed slivers of hot peppers and plenty of garlic. Both flavors and the slightly sweet tomato juices made for a sinful symphony. Another specialty sauce was equally delectable. The white wine of the Chicken Florentine was salty and smooth and tied together all of the divergent flavors and textures going on: the bird, the linguini, the garlic, and the sautéed spinach and mushrooms.
The boneless herb-and-garlic-rubbed rib-eye was as good as any high-priced steak served in Fort Worth that day, I guarantee: Seemingly larger than the promised 16 ounces, the beef came to the table perfectly as ordered: black and pink. And no twice-baked sidecar here. Rather, Margie's paired its steak with a fettucine alfredo so copious and so rich – Margie's uses only real cream – that it could have handsomely served as a big eater's entrée. Mwah!
Margie's Original Italian Kitchen
9805 Camp Bowie West, FW. 817-244-4301.
Sun-Thu 5pm-10pm and Fri-Sat 5pm-11pm.
All major credit cards accepted.
Chicken Florentine w/linguine and garlic sauce $13.95

Grilled shrimp Fra Diavolo $15.95

16-oz rib-eye w/fettuccine alfredo $18.95