"Io sono Tony Montana!" screams an Italian teenager who's delighted at being given his first machine gun in the 2009 Mafia drama Gomorrah. That speaks to the wide cultural net that has been cast by Scarface, the 1983 gangster movie directed by Brian De Palma, co-written by Oliver Stone, and starring Al Pacino. A remake of a seminal and unexpectedly hinky 1932 gangster film by the same name, the newer version initially found a cold reception when it was released in theaters. Roundly panned by critics for its excessive violence, excessive drug use, excessive running time (170 minutes), and excessive excess, the movie was largely ignored by ticket-buyers and turned into an expensive flop for Universal Pictures.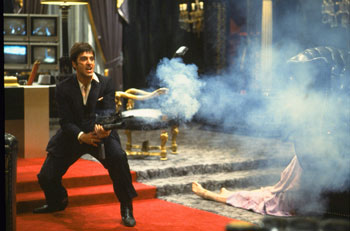 Yet the movie wound up taking on a life of its own after airing repeatedly on the HBO Network in the mid-to-late 1980s. While comedians impersonated Pacino's Latin accent and coked-up machismo, African-American viewers took up the film as both a cautionary tale and a model for the then-burgeoning gangsta culture. A retrospective screening at various movie theaters this Wednesday not only shows the blood-soaked epic but also includes a documentary with some behind-the-scenes tidbits (Pacino admits he didn't want Michelle Pfeiffer starring in the movie because he thought she was too young) and a look at this film's unique afterlife.
Scarface screens at 7:30pm at various movie theaters. Check Calendar for locations. Tickets are $12.50. Call 818-761-6100.