Just who does restaurateur Bobby Albanese think he is?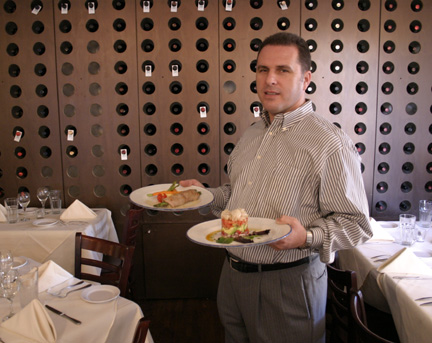 He shuttered two foodie-adored downtown eateries last year – Ciao and Fizzi – before they even had a chance to become destination spots. Now, beneath the shadow of the looming UNT Health Science Center, he's opened Piola, in a tiny house replete with fireplace, exposed brick walls, molded ceiling fixtures – and no convenient parking in sight (though nighttime's a different story).
As a recent crowded lunch at Piola proved, Albanese knows his forte: modest, elegant, and attentively prepared Italian fare. He's got us by the buds – let's hope he doesn't let go so quickly this time. The meal started with an appetizer of grilled asparagus wrapped in prosciutto and modestly ladled with a warm, creamy goat-cheese sauce. After the first bite, it was apparent that these half-dozen thin, bright-green spears were fresh – they'd been cut low on the stalk, leaving chewy, fibrous layers around the bottom. Still, they were magnificent, and the in-law-thin slices of ham – salty and chewy along one edge, fatty across the other, and tender through the middle – only ramped up the explosion of flavors. The lightly musky sauce featured a dash of cream that cut the filminess so often displayed by this type of cheese.