Just who does restaurateur Bobby Albanese think he is?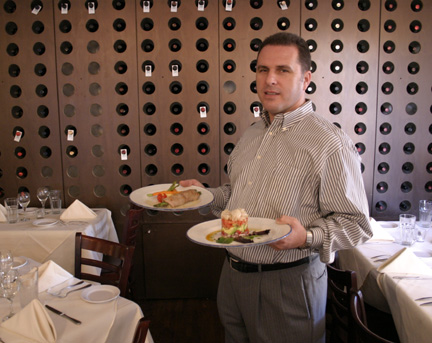 He shuttered two foodie-adored downtown eateries last year – Ciao and Fizzi – before they even had a chance to become destination spots. Now, beneath the shadow of the looming UNT Health Science Center, he's opened Piola, in a tiny house replete with fireplace, exposed brick walls, molded ceiling fixtures – and no convenient parking in sight (though nighttime's a different story).
As a recent crowded lunch at Piola proved, Albanese knows his forte: modest, elegant, and attentively prepared Italian fare. He's got us by the buds – let's hope he doesn't let go so quickly this time. The meal started with an appetizer of grilled asparagus wrapped in prosciutto and modestly ladled with a warm, creamy goat-cheese sauce. After the first bite, it was apparent that these half-dozen thin, bright-green spears were fresh – they'd been cut low on the stalk, leaving chewy, fibrous layers around the bottom. Still, they were magnificent, and the in-law-thin slices of ham – salty and chewy along one edge, fatty across the other, and tender through the middle – only ramped up the explosion of flavors. The lightly musky sauce featured a dash of cream that cut the filminess so often displayed by this type of cheese.
The asparagus' husky bottoms didn't deter my guest and me from trying the shrimp-and-asparagus risotto. Here the spears were chopped into small cylinders and mixed with a clumpy, steaming, chicken-stock-flavored rice that bore no burden of sogginess. Six mid-sized crustaceans were perched invitingly atop the mound, its yummy flavors given some extra kick by mozzarella sprinkles.
Nonna's lasagna is a long-time Albanese family recipe that works mostly because it doesn't try to overwhelm you with towering layers of pasta or brawny meat crumbles and gooey cheese. It's a flatter and humbler – but also spicier – slice, with a thin, velvety cover of smooth, pepper-flecked mozzarella, onion bits, and delicate helpings of tomato sauce, ricotta cheese, ground beef, and an oregano-sparked sausage. Flavor, not feats of cheese-and-pasta engineering, was what mattered here.
The stuffed chicken marsala was a little blander than the previous dishes but still superior to what many other Italian kitchens sling. The oven-roasted bird, bloated almost to the size of a small football, could've been juicer, and the advertised sun-dried tomatoes proved to be simply pulpy, wispy strips inside the breast. But the soft, pale-yellow cheese (fontina? gouda?) that made up the filling was sheer tangy goodness, as were the sliced mushroom caps in marsala wine sauce that crossed one corner of the meat. The side was a fragrant, rosemary-tinged scoop of polenta: fine-ground, boiled yellow cornmeal that achieved a comforting consistency, somewhere between grits and mashed potatoes. If Bobby Albanese keeps offering elusive tastes and textures like those at Piola, Fort Worth diners are likely to stay on his trail for a long time.
3700 Mattison Av, FW. 817-989-0007. Mon-Fri 11am-2pm & 5-10pm, Sat 5-10pm, Sun 10am-1pm. All major credit cards accepted.
Piola
Asparagus, prosciutto w/goat cheese $5.95
Nonna's lasagna $8.95
Shrimp-and-asparagus risotto $11.95